Kids Good Stuff Is Loved by Customers
Reviewed by Michelle, from Australia
Verified Buyer
I recommend this product
Product Standouts
Quality of ingredients
Nutritional profile
Ease of use
Blendability
My child loves it
Happy knowing my child in getting a lot of nutritional value from her morning milkshake
Reviewed by Sarah B., from Australia
Verified Buyer
I recommend this product
Product Standouts
Nutritional profile
Ease of use
Blendability
Great product
My son is a very very fussy eater with food allergies, so he has this drink for breakfast every day. He loves the taste with almond milk.
Reviewed by Fiona M., from New Zealand
Verified Buyer
I recommend this product
Product Standouts
Quality of ingredients
Digestability
Ease of use
Blendability
Great
4 year old fussy eater loves the taste and not much is needed to make a good drink for him.
IMPROVED IMMUNITY

Helps fill any nutritional gaps in their diet by boosting their vitamins & minerals

SUPPORTS HEALTHY BONES

With 200mg calcium per serve, and 8g of plant-based protein to aid growth and development

FOR HAPPIER INSIDES

With microbiotics for good digestion and gut support

LONG LASTING ENERGY

Includes 11 different fruit and veg to help them live, learn, grow and play!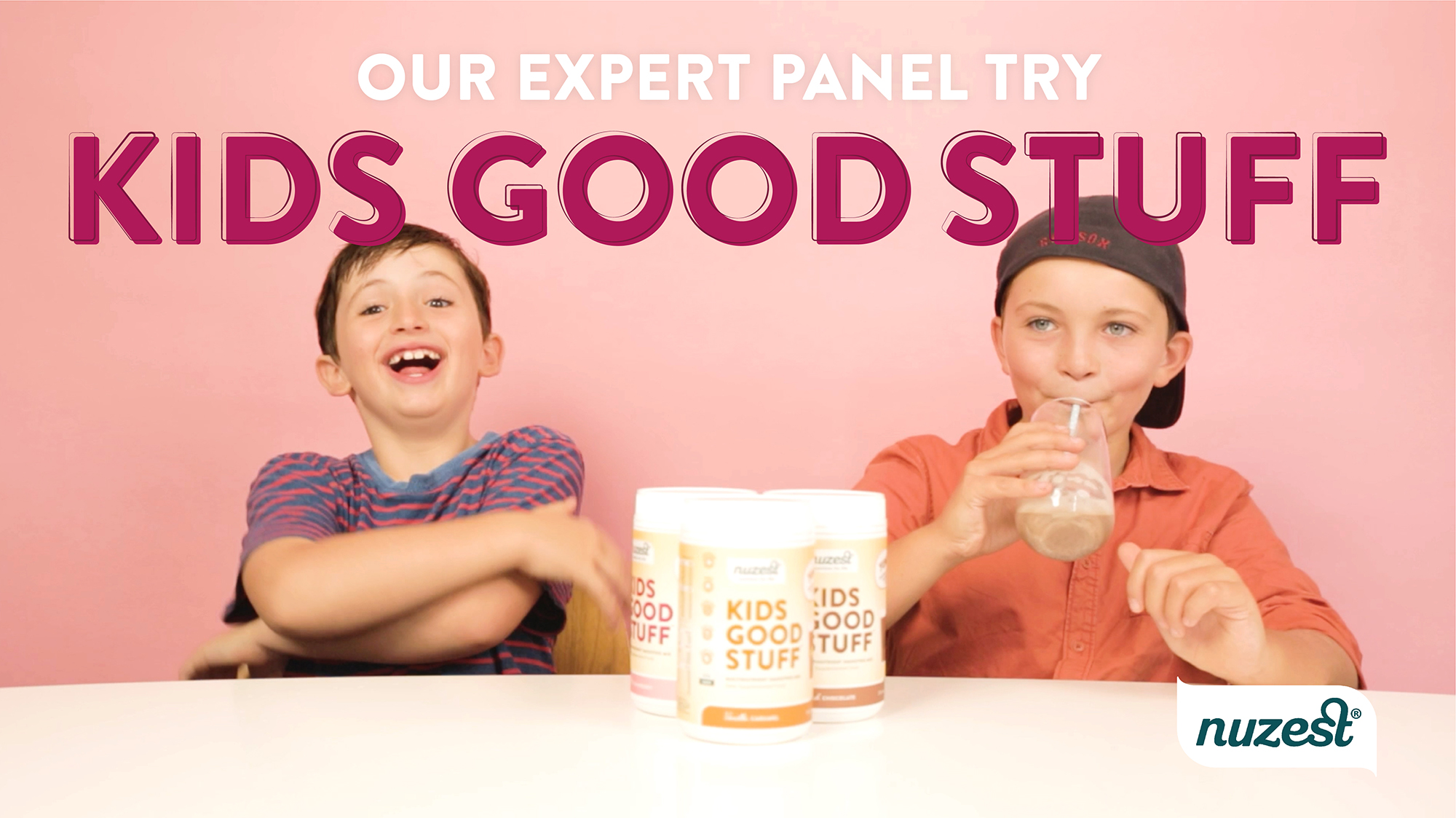 Calcium

Fruit & Veg

Protein

CFU Microbiotics
Kids Good Stuff is designed specifically with children's needs in mind. It's packed full of vitamins and minerals, plus other great stuff that you won't get from capsules or gummy vitamins. It has all the elements to set your kid up for a good day and a great start in life.
+ Made from real food including 11 different fruit and veg
+ Vitamin and mineral boost helps to fill any nutritional gaps in their diet
+ Good for everyone for all ages from 4 and up
+ For happier insides with pre- and probiotics
+ Supports healthy bones with 200mg calcium per serve
+ Aids growth and development with 8g of plant-based protein per serve
+ Nurtures learning and focus through brain-supportive nutrients
+ Provides long-lasting energy to help them live, learn, grow and play
Nutritionals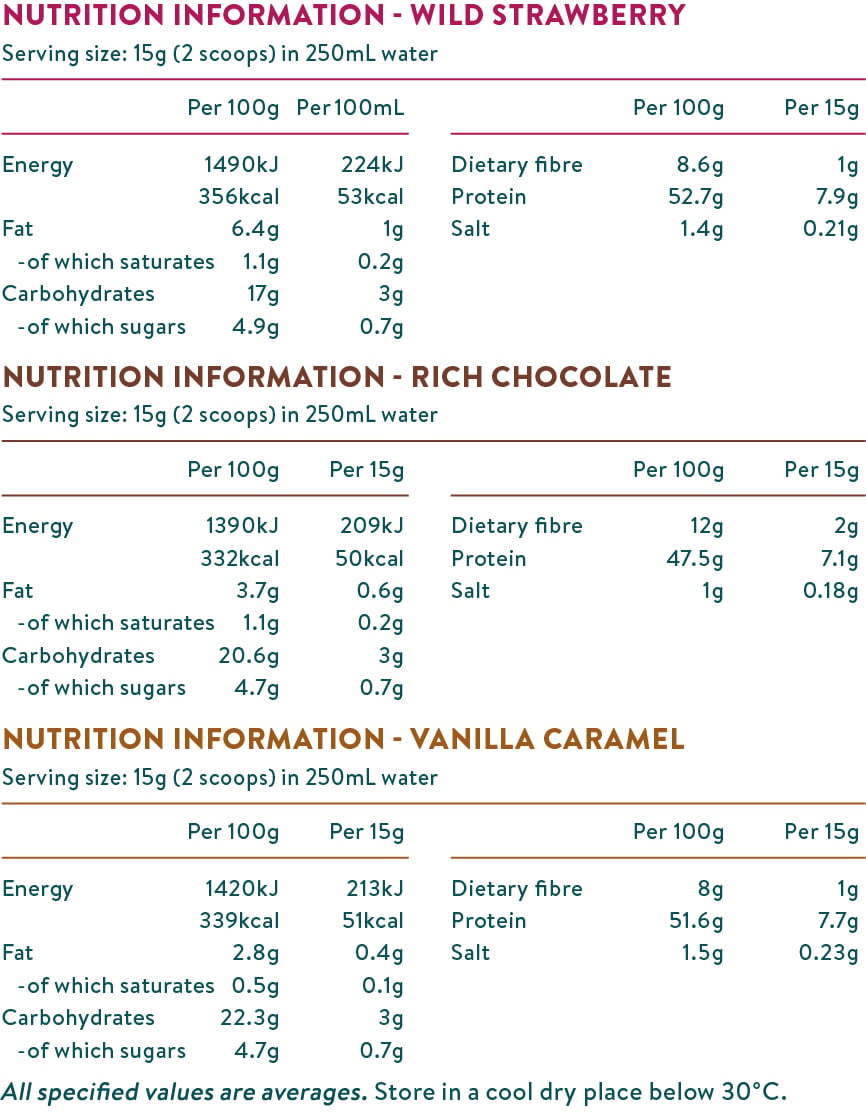 Vitamins & Minerals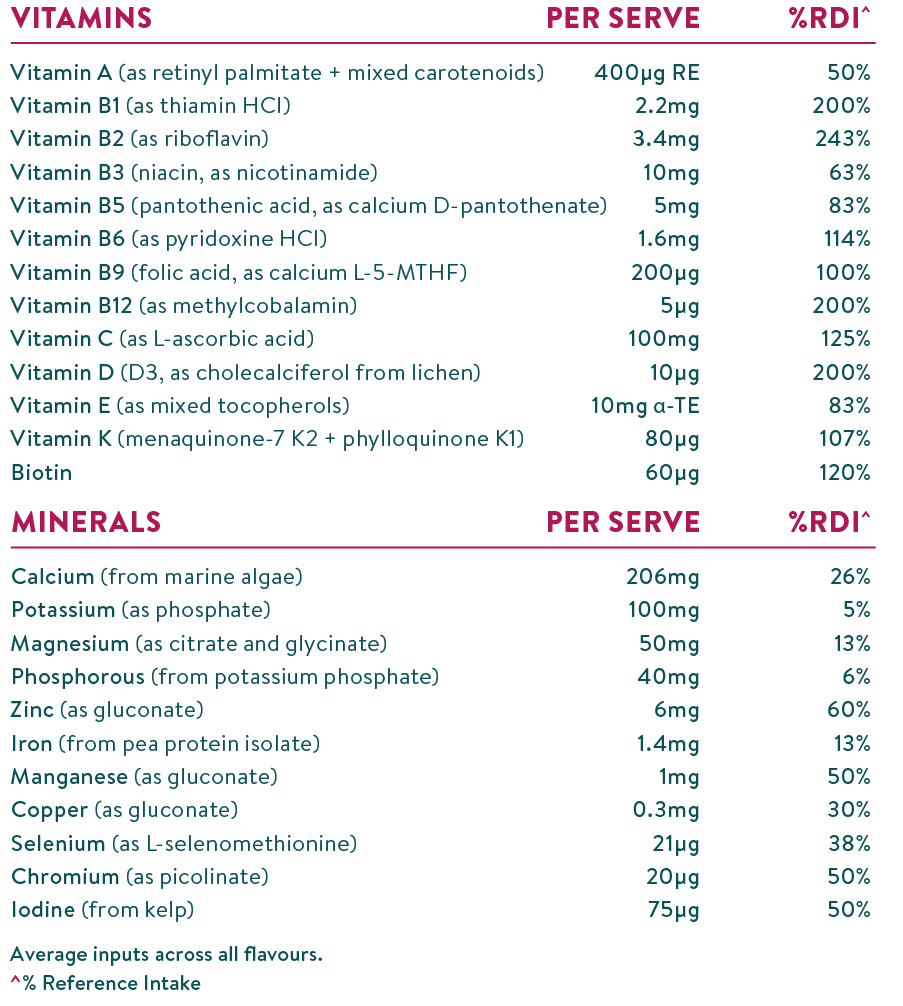 Protein, Fruit & Veg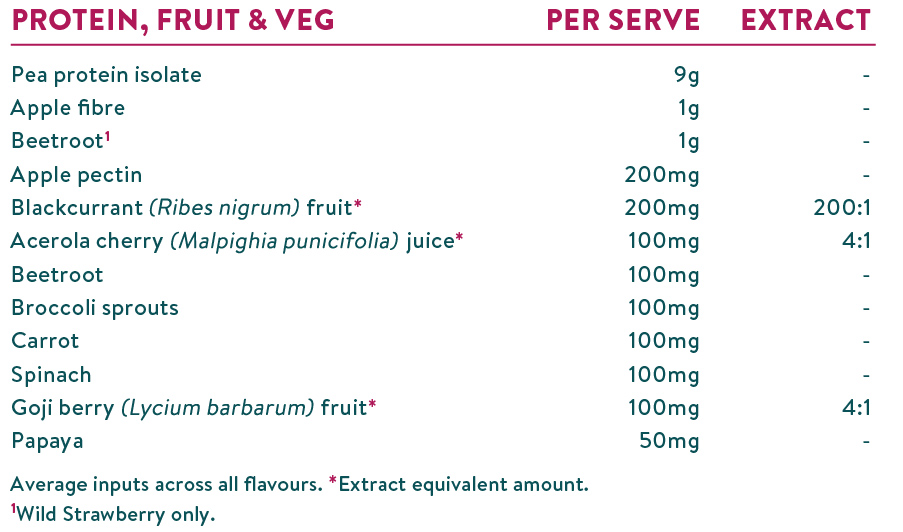 Immune & Digestive Blend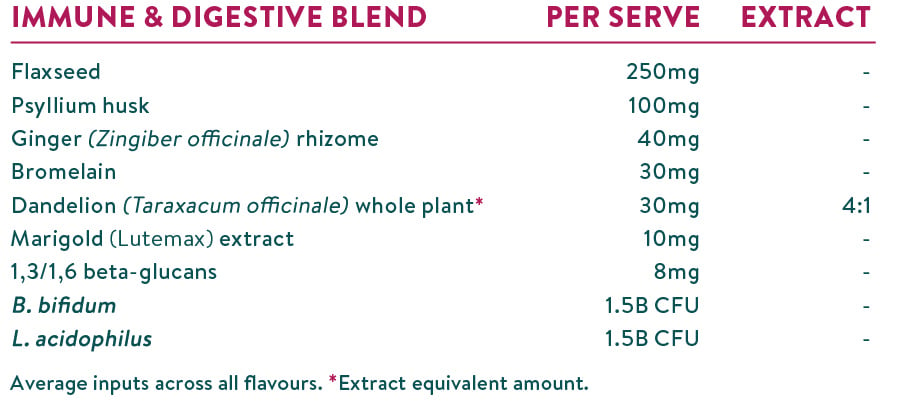 Cognition & Vision Blend
Antioxidants & Superfoods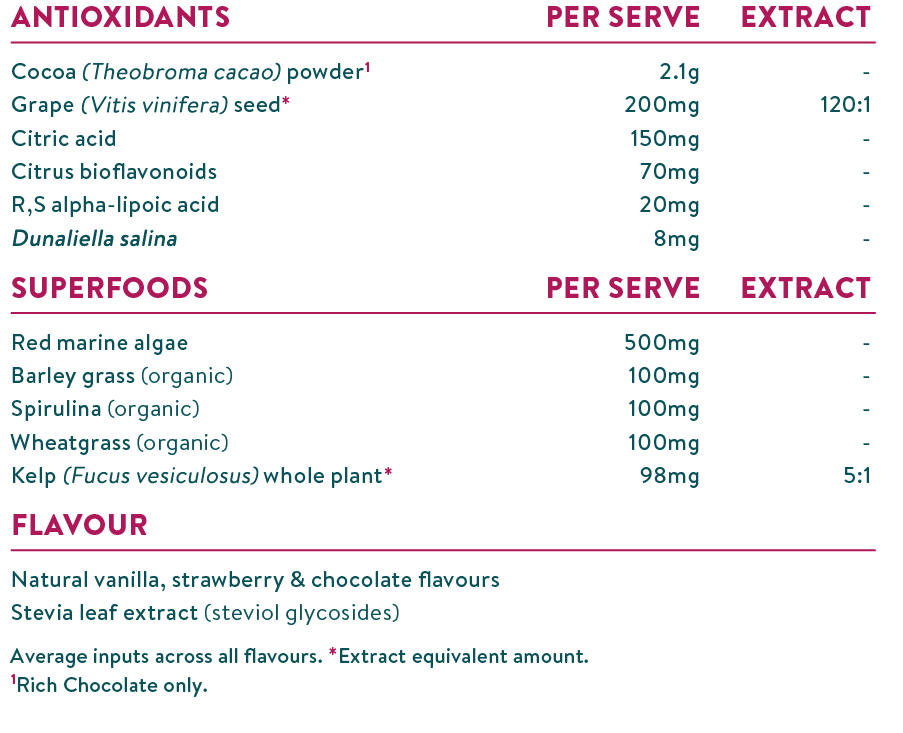 Shipping
HOW LONG WILL IT TAKE FOR MY GOODS TO REACH ME?
Shipping costs are calculated based on the size and weight of the product and your location. Exact shipping costs are calculated in the shopping cart and will be added to the order total before checkout.
**IMPORTANT COVID-19 UPDATE**
In the current challenging circumstances we are doing our best to make sure things keep running as smoothly as possible, however we have had to make some amendments to our usual delivery services. Please note that it may currently take between 3 and 5 working days to dispatch your order. 
UK Standard – There may be a delay on your order as a result of couriers experiencing delays due to the Coronavirus situation. 
With all orders you will be sent a tracking link via email so that you can keep track of your order at all times.
Whilst we aim to process your order promptly and despatch within 1 working day, we are experiencing high volumes of orders and some orders may take longer. If you have not received your order within 10 working days, please contact us at hello@nuzest.co.uk
Next Day delivery – We are suspending the guaranteed delivery service at the moment, due to our delivery partners experiencing delays as a result of the Coronavirus (COVID-19) situation.
Europe – Due to some restrictions in European countries we are currently unable to guarantee delivery to all European addresses. Please contact us if you would place an order to a European country and we'll check the availability at that time. 
Changes to our delivery procedure 
Items requiring signatures - In order to protect customers and staff, our delivery partners are minimising contact during delivery.  The courier will not be handing over hand-held devices to customers to capture signatures but instead will log the name of the person accepting the item.  Additionally, for all customers where we need to deliver any item that won't fit through your letterbox, the courier will place your item at your door. Having knocked on your door, they will then step aside to a safe distance while you retrieve your item. This will ensure your item is delivered securely rather than being left outside. 
WHAT IS YOUR REFUND POLICY? 
We always value your feedback on our product and if there is anything wrong with it we are happy to offer you a full refund. Given the high standards we expect from our products, we ask that you fill in our survey to help us determine any defect. We will also have the product tested against other products in the particular batch. If a defect is found, we will issue you a refund. Please contact us on hello@nuzest.co.uk.
CAN I CANCEL AN ORDER?
If for some reason you need to cancel your order, please email us at hello@nuzest.co.uk, if we have not dispatched the product we may be able to ref und your money. If you need to make changes to your order you can also go through the same process.
MY DELIVERY SHOULD HAVE ARRIVED BY NOW, IS THERE A WAY I CAN TRACK IT?
If you think your goods should have arrived you can email us on hello@nuzest.co.uk and we will chase it up for you. How can I be sure that my order has gone through? You will receive a confirmation email shortly after placing your order and making payment. Your order confirmation will be sent to the email address supplied. If you didn't receive an order confirmation and are concerned your order didn't go through, you can email us at hello@nuzest.co.uk and we'll have a look for it and get back to you.
I DON'T LIVE IN THE UK - CAN I STILL ORDER FROM YOU? 
www.nuzest.co.uk ships to all locations in the UK.
We are currently unable to process orders for delivery to Europe as a result of being unable to guarantee delivery due to restrictions in place as a response to COVID-19 (Coronavirus).
For all other regions, you can order through one of our international sites. Region selection can be made here at our global site www.nuzest.com
Kids Good Stuff FAQS
Does Kids Good Stuff contain gluten/dairy/soy/peanuts/eggs/GMOs?
No - Kids Good Stuff is free from all common allergens, making it suitable for most children aged 4 to 14.
Does Kids Good Stuff replace a multi-vitamin?
Yes - Kids Good Stuff is designed to provide complete nutritional support for growing bodies and minds. Kids Good Stuff is more than just a multivitamin - it also contains minerals, pre and probiotics, digestive enzymes, veggies, berries and greens.
What age group is Kids Good Stuff suitable for?
Kids Good Stuff has been developed to help meet the nutritional requirements of children aged 4 and above.
Does Kids Good Stuff contain sugar or artificial sweeteners?
Kids Good Stuff contains no added sugar and is extremely low in naturally occurring sugars. One serve of Kids Good Stuff has less than 1g of sugar. The product is sweetened using Thaumatin (an extract of Katemfe fruit from West Africa) and the natural sweetener Stevia.
Why do some ingredients on the label not meet the RDI?
Legislation requires us to show RDIs for adults on the label, not kids so it can be a little misleading. E.g. the levels of zinc listed are 50% of the RDI for adults but 100% of RDI for children. We do not include 100% of the RDI for all nutrients because at Nuzest we firmly believe that food comes first. Kids Good Stuff is not designed to be a replacement for food; it is a supportive formulation to fill dietary gaps. Think of Kids Good Stuff as topping up nutrient levels rather than being the only source of nutrients.
How is Kids Good Stuff different from Good Green Vitality?
Kids Good Stuff is designed specifically for growing kids. They have different nutritional requirements to adults and a variety of popular flavour profiles were chosen to ensure they also enjoy the experience. Children have lower requirements for many nutrients (due to lower bodyweight) and so the amounts of certain nutrients are adjusted to be appropriate for this age group. We have also added protein and increased the calcium content to support growth and development, and included brahmi to support cognitive function and lutein and zeaxanthin for eye health. The protein and fibre included will also assist with satiety as a great start before school or an afternoon snack to help keep the hunger pangs away before dinner; a healthy alternative to soft drink, cakes and biscuits. You could achieve a similar effect by mixing a half serve of Good Green Vitality (GGV) with our Clean Lean Protein. The difference is that GGV also contains adaptogens and additional herbs to aid digestion and detoxification that are probably not necessary for children, particularly the younger group.